Peewee's Pet Adoption World & Sanctuary
1307 Saratoga Blvd., Corpus Christi, Texas 78417
361-888-4141
We are a 501.c3 nonprofit no-kill animal shelter.
96 cents out of every dollar goes directly to the care of our animals, so please donate. 
Peewee's Pet Adoption World and Sanctuary was established in 1995.
Peewee's Animal Shelter is located at 1307 Saratoga and has been in operations since May, 1997. Peewee's presently houses over 450 animals, including dogs, puppies, cats, kittens as well as, pigs, goats, rabbits and other barn animals. Peewee's relies on donations only for its operation.
We are a 501.c3 nonprofit no-kill animal shelter. Shelter operations are accomplished strictly by donations. Our biggest contributor, HEB Food Stores, donates all the dog and cat food, plus a healthy supply of kitty litter. Peewee's does not get any government, city, or federal funding.
Peewee's helps those animals no one else will – the sick and the stray. The volunteers at Peewee's work tirelessly to rehabilitate poor orphaned pets in the hopes that they will find new, loving homes. The dogs and cats are spayed/neutered, given regular heartworm preventative, and are on flea & tick prevention and medications as needed.
Prospective families are thoroughly screened. The adoptive family must go through an application process to obtain a pet. The adoption donation is only $100 for a dog and $40 for a cat.  Fees are waived on seniors and certain sponsored animals.  Fees include sterilization and vaccinations. Peewee's also happily accepts donations to help in caring for the animals.
There are many families in the Corpus Christi area who are grateful to Peewee's for the loving pets they currently have in their family.
Peewee's Pet Adoption World & Sanctuary Board of Directors:
Alan Garett, D.V.M., President
Beth Deubel-Ragan, Vice-President
Lori Carey, Secretary
Ernie Cochran, Treasurer
Sheila Lawrence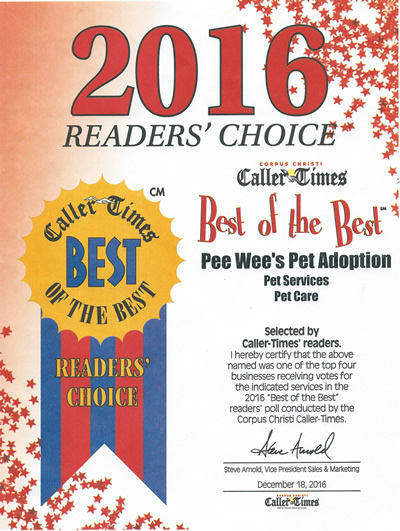 The purposes for establishing Peewee's Pet Adoption World and Sanctuary are:
To operate a non-profit, no-kill shelter and adoption center for indigent animals, exclusively for charitable purposes;
To rescue, rehabilitate, and care for lost and abandoned animals;
To reunite lost animals with their owners;
To find loving and caring new homes for those animals which are suitable for adoption;
To provide shelter and care for those animals not suitable for adoption, for the duration of their lives;
To promote the humane and proper treatment of all animals.
And to operate a low-cost spay/neuter clinic to help reduce the number of strays in our community.